Travel Support
SCMB has funding to partially support participants, and priority in allocation will be given to graduate students, postdocs, and junior researchers, including tenure-track faculty, and especially to those presenting posters. If funding allows, we may be able to fund additional participants. To apply for support, check the "I am requesting financial support for Hotel Accommodation" or "I am requesting financial support for Travel" boxes when you register.
We ask that all attendees, including those supported by SCMB, pay the registration fee upon registration. We will notify those who've applied for funding support by January 11, 2019 with funding decisions.
Note: If you are funded for hotel accommodation, SCMB will reserve a shared hotel room for Monday, January 28th at the Renaissance Atlanta Midtown Hotel located at 866 West Peachtree Street Northwest, Atlanta, GA 30308.
Poster Presentation
Poster presenters will have the opportunity to win a small prize, equal to the cost of their registration. If you would like to present a poster, select the relevant box on the Registration section of scmb.gatech.edu/symposium when you register.
Please email poster titles and abstracts to scmb@gatech.edu.
Getting Around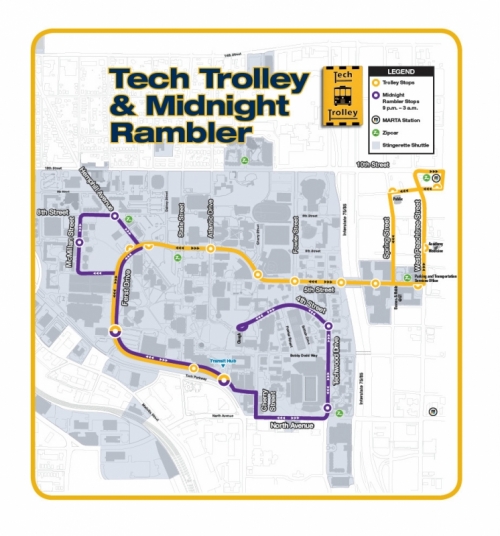 From the airport
MARTA rail service is the quickest and most affordable way to get from the airport to Midtown Atlanta. From the Airport MARTA station, board any northbound train (Red or Gold line). The ride is just 19 minutes from the airport to the North Avenue MARTA station and 23 minutes from the airport station to Midtown station via either the Red or Gold lines. A one-way fare is $2.50. Trains run approximately every 10 minutes during the day, less frequently at night. If you are arriving into Atlanta late at night, you may prefer to take a taxi cab or Lyft/Uber.
Around Midtown and Georgia Tech
The Georgia Tech Trolley shuttles between the Midtown MARTA station and Georgia Tech's campus, with a stop directly in front of the Marcus Nanotechnology building at Ferst Drive and Atlantic Drive. Tech Trolley has stops at the Midtown MARTA station (on 10th Street near West Peachtree Street, just a couple blocks from the Residence Inn Atlanta Midtown/Georgia Tech Hotel and the Renaissance Atlanta Midtown Hotel) and at Tech Square (5th Street near Spring Street NW). It is free to ride the Trolley.
Parking
Registered SCMB Symposium attendees may park in the North Campus/State Street Parking Deck (Visitor 5) on the corner of State Street and 10th Street, immediately north of the Marcus Nanotechnology Building. SCMB will validate your parking in this lot only.
Internet Access
Visitors to Georgia Tech can connect to the Eduroam or GTvisitor wireless networks.